Tree of Life Wire Wrapped Natural Crystal Necklace | Jovivi
Description
Shipping FAQ
Size Chart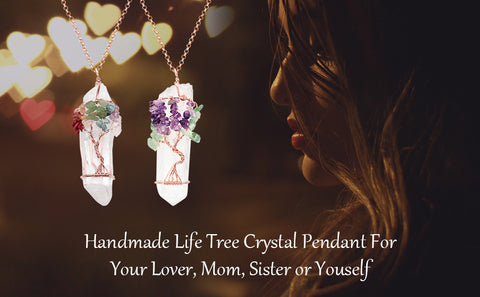 ❤️Unique Design Pendant--tumbled stone Tree of life entwined cut raw rock crystal quartz Column. The handmade tree of life is made of tumble stones, wrapped as a tree look, copper wires as the branches, Amethyst and green Aventurine as the leaves, this symbolizes the interconnection of life and the flow of creation, also known as The Tree of Knowledge, The Tree of Life with its seeds, branches and roots signifies the family tree. It will Infuse Abundance and Prosperity into Your Life. When you wear it, it promotes beauty, health, good luck, and healing.


❤️Perfect gift for Thanksgiving Day, Christmas Day, Anniversary Day, Valentine's Day​​
​
💡Sizing: 
*Rock crystal quartz Column Size:45-60mm(length),12-18mm(width);tumble stones size:5-8mm;
*Pendant overall size:52-68mm(length),12-18mm(width),4mm(hole).
*Chain length:24"-25.5"(61-64cm).
💡Material: Raw Clear Quartz; ​Natural Tumble Stones; Copper Wires​
💡Quantity: 1PCS
🎁Comes with a pouch bag & a gift box.